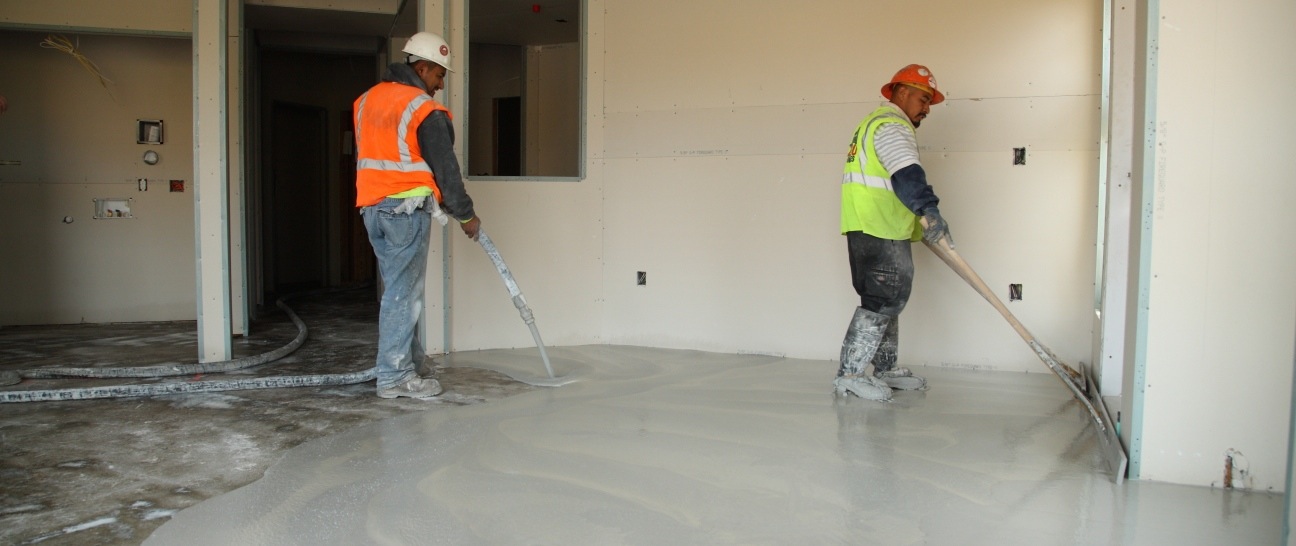 Gypsum Underlayments PSI & Quality Control
Gypsum underlayments are used in single family, multi-family and commercial construction in a variety of applications, including underlayments, floor leveling and radiant floor heat.
Ultra Quiet Floors has averaged between 1 and 3 million square feet of poured gypsum each year since 2000. We take pride in our impeccable record of providing quality, on-time installations year after year.
The difference that we bring to your project is our attention to detail and high-quality products:
We pour gypsum underlayments that vary in strength from 2,000 pounds per square inch (PSI) to 7,000 PSI depending on the project need or specification.
Both the amount of sand per bag and the gallons of water per bag are closely monitored on each installation.
Higher PSI mixes usually equate to lower amounts of sand that is mixed with a higher ratio of bags of gypsum underlayment concentrate material.
Underlayments
Most new wood frame construction — whether hotels/motels, multi-family apartments or condos or other structures with a second story and above — requires gypsum underlayment in its floor system design. Gypsum used as an underlayment replaces particleboard or other cement board underlayments.
Gypsum underlayments are often a key part of the floor system because this process adds critical elements to the UL-designed systems.
Advantages include:
Added sound control
Fire protection
Completion of the entire underlayment installation in just one day
Underlayment Thickness Guidelines
Over a wood floor, the standard thickness of gypsum underlayments ranges from 3/4″ to 3″ (inches) deep. See our Product Data for specifications by product line.
For Use in Floor Leveling
Gypsum underlayments are a tremendous value when used to level or flatten every kind of floor. From commercial properties to residential garages and basements, our floor leveling processes may also be applied to level or flatten your problem floor areas.
Floor Leveling Thickness Guidelines
Over concrete substrates, the thickness ranges from featheredge or 0″ to 7″ (inches) deep
Over wood substrates, the thickness ranges from 1/2″ to 2-1/2″ (inches) deep with the ability to finish off to zero with a modified floor patch
Over Radiant Floor Heat
Gypsum underlayments are the most common choice as a thermal mass topping for thin slabs over wood floor construction.
Remodeling and retrofitting are also common applications for gypsum underlayment when pours are required, when adding radiant to an existing basement or garage. See our Radiant Floor Toppings for more details.